Y2 series 1.5hp motor ac induction three phase electric motor
Product Description
Y2 series 1.5hp motor ac induction three phase electric motor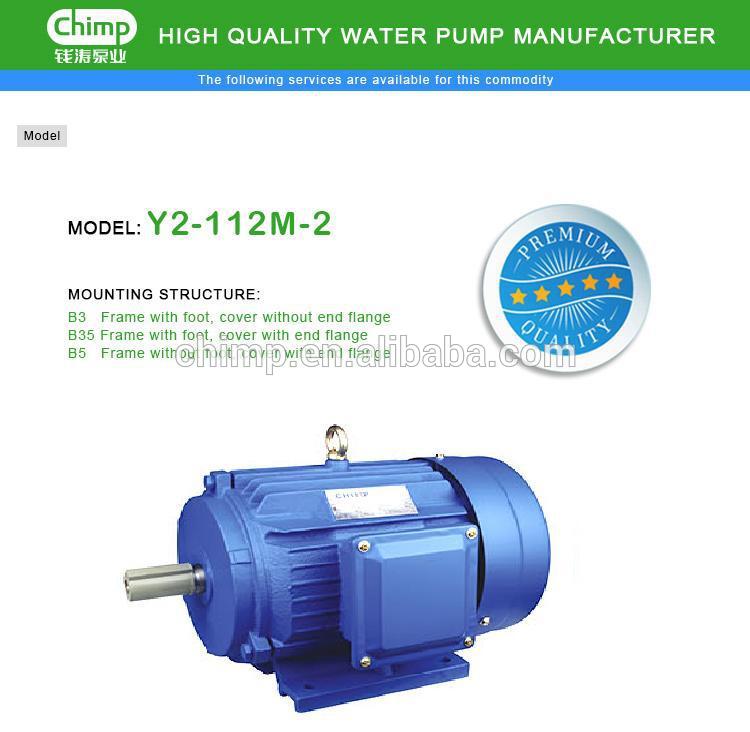 Product Description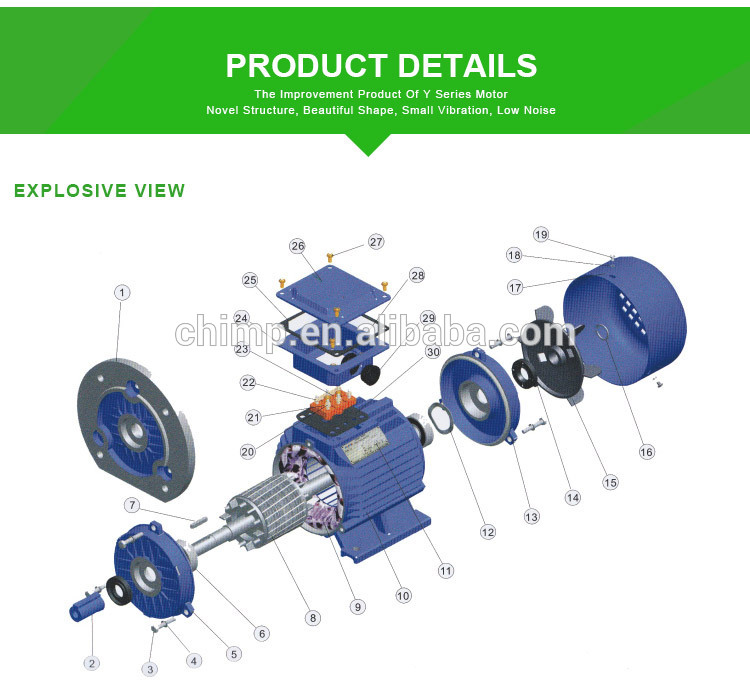 | | | |
| --- | --- | --- |
| 1.B5 Flange | 11.Name plate | 21.Brass net |
| 2.Shaft cover | 12.Wave washer | 22.Brass lug |
| 3.Bolt | 13.Rear endshield | 23.Teminal board |
| 4.Spring washer | 14.Seal ring | 24.Terminal box base |
| 5.Front endshield | 15.Fan | 25.Gasket |
| 6.Bearing | 16.Fan clamp | 26.Terminal box lid |
| 7.Key | 17.Fan cowl | 27.Screw |
| 8.Rotor | 18.Washer | 28.Earth mark |
| 9.Stator | 19.Fan cowl screw | 29.Jacket |
| 10.Frame | 20.Brass washer | 30.Leather washer |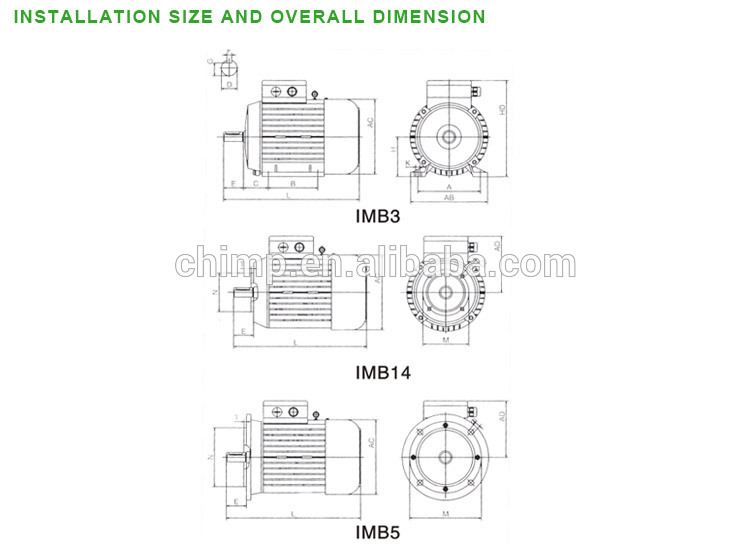 INSTALLATION SIZE AND OVERALL DILMENSION
     
FRAME
INSTALLATION SIZE
OVERALL DIMENSIONS
IMB5
IMB14
IMB3
 
A
B
C
D
E
F
G
H
K
M
N
P
S
T
M
N
P
S
T
AB
AC
AD
HD
L
56
90
71
36
9
20
3
7.2
56
5.8
65
50
80
M5
2.5
98
80
120
7
3
110
120
110
155
195
63
100
80
40
11
23
4
8.5
63
7
75
60
90
M5
2.5
115
95
140
10
3
130
130
115
165
230
71
112
90
45
14
30
5
11
71
7
85
70
105
M6
2.5
120
110
160
10
3.5
145
145
125
185
225
80
125
100
50
19
40
6
15.5
80
10
100
80
120
M6
3
165
130
200
12
3.5
160
165
135
215
295
90S
140
100
56
24
50
8
20
90
10
115
95
140
M8
3
165
130
200
12
3.5
180
185
145
235
335
90L
140
125
56
24
50
8
20
90
10
115
95
140
M8
3
165
130
200
12
3.5
180
185
145
235
360
100L
160
140
63
28
60
8
24
100
12
130
110
160
M8
3.5
215
180
250
15
4
205
215
170
255
380
112M
190
140
70
28
60
8
24
112
12
130
110
160
M8
3.5
215
180
250
15
4
145
240
180
285
400
132S
216
140
89
38
80
10
33
132

12

165
130
200
M10
4
265
230
300
15
4
280
275
195
325
475
132M
216
178
89
38
80
10
33
132
12
165
130
200
M10
4
265
230
300
15
4
280
275
195
325
515
160M
254
210
108
42
110
12
37
160
15
/
/
/
/
/
300
250
350
19
5
325
325
255
385
600
160L
254
254
108
42
110
12
37
160
15
/
/
/
/
/
300
250
350
19
5
325
325
255
385
645
180M
279
279
121
48
110
14
42.5
180
15
/
/
/
/
/
300
250
350
19
5
355
380
280
455
700
180L
279
279
121
48
110
14
42.5
180
15
/
/
/
/
/
300
250
350
19
5
355
380
280
455
740
Customer's satisfaction is CHIMP staff's persistent pursuit.
Quality and credit standing is the forever topic of CHIMP.
Product parameter
PRODUCT PARAMETER 
                        1.BRAND: CHIMP                                                                               6.RATED VOLTAGE: 380V
                        2.MODEL: Y2-112M-2                                                                        7.RATED FREQUENCY: 50Hz (or 60Hz)
                        3.PRODUCT CATAGORY: electric motor                                       8.PROTECTION CLASS: IP54 (or IP55)
                        4.BASE CENTER HEIGHT: 63-315mm                                          9.INSULATION CLASS: B or F
                        5.POWER RANGE: 0.12-110kw                                                     10.WORK SYSTEM: S1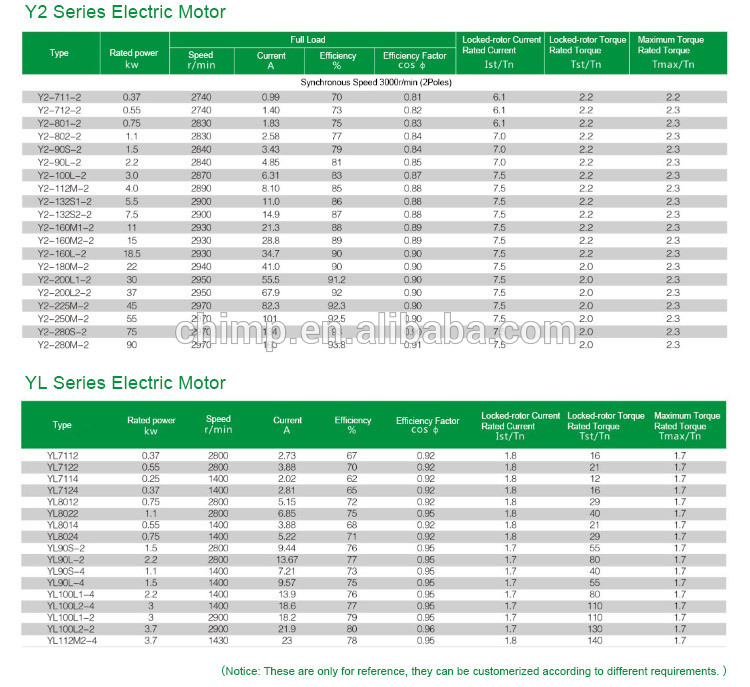 Company Information
 WORKSHOP AND PRODUCTS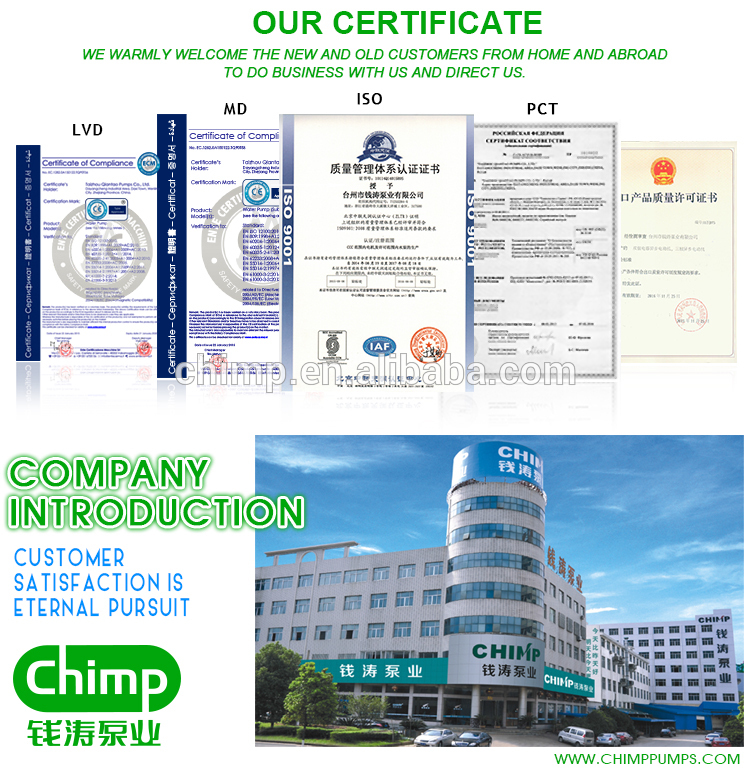 Manufacturer: TAIZHOU QIANTAO PUMPS CO., LTD.
Location: Dayangcheng Industrial Area, Daxi Town, Wenling, Zhejiang
Trademark: CHIMP
2016 Wenling Top 100 enterprises ranked: TOP67
2015 Wenling Top 100 enterprises ranked: TOP87
History: More than 25 years experience of manufacturing pumps and motors;
Scale: Cover an area of 70000 square meters (still in the expansion) and around 350 employees; 
Technology: Three groups of professional technical engineers and strong R& D team; five groups of independent professional assembly line;
Management: Scientific ERP management and strict quality control system;
Equipments: Automatic wiring machine, Automatic paint spraying equipment, CNC precision automatic lathe, Electrophoresis line;
Innovation: Continuously diversity products range to satisfy customers' needs;
Production capacity: 80000 pcs/month
Marketing network: Asia,Europe, Africa and America
Certificates: CE, ISO9001, RoHs
Marketing models: Both Exports and domestic sales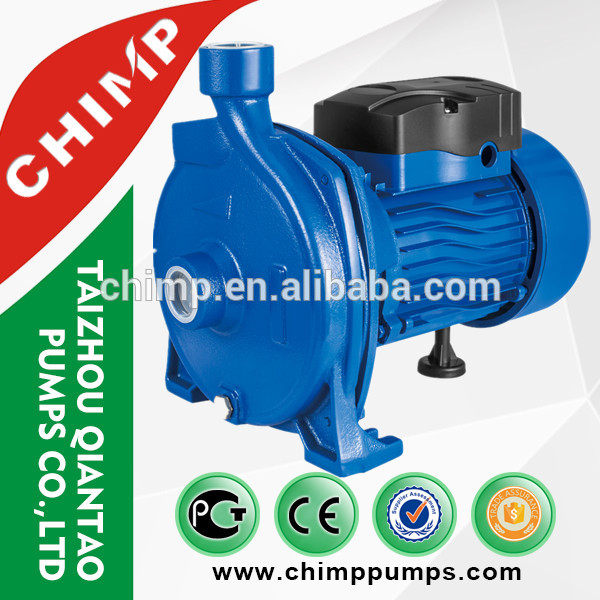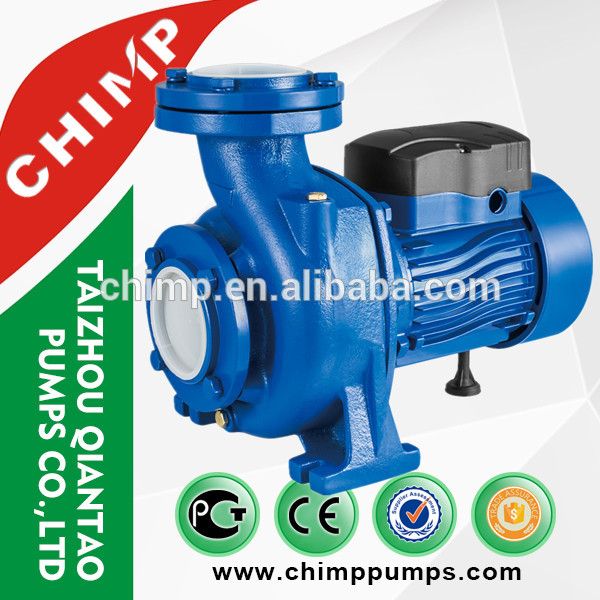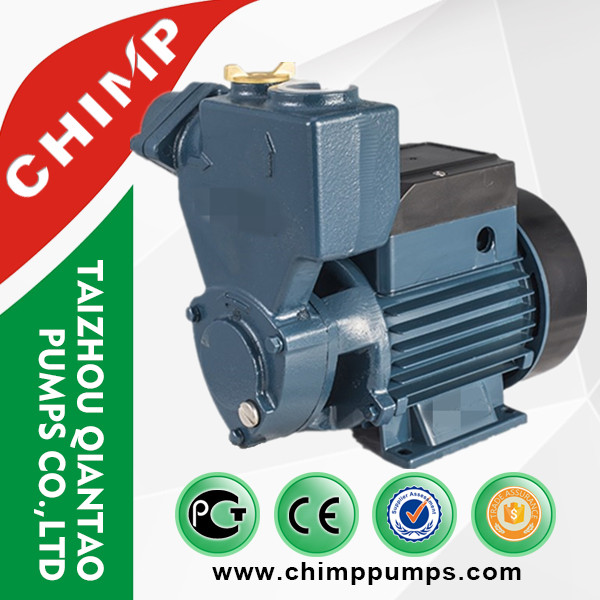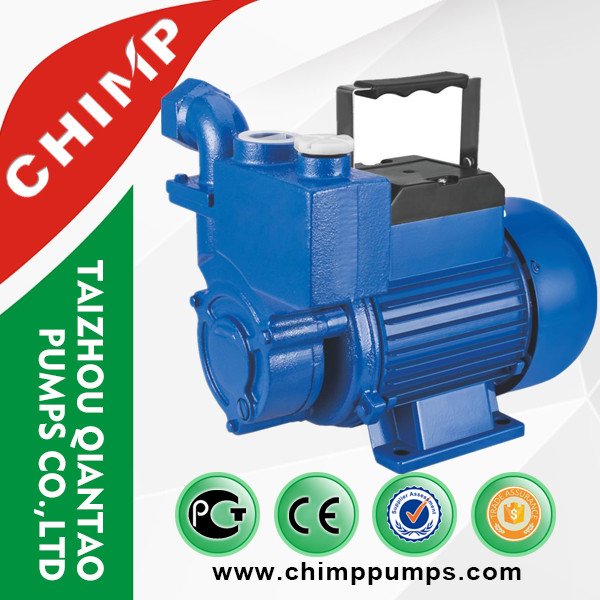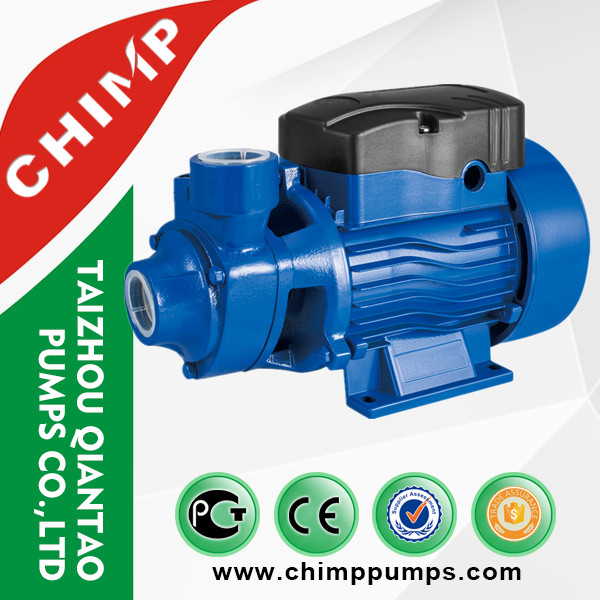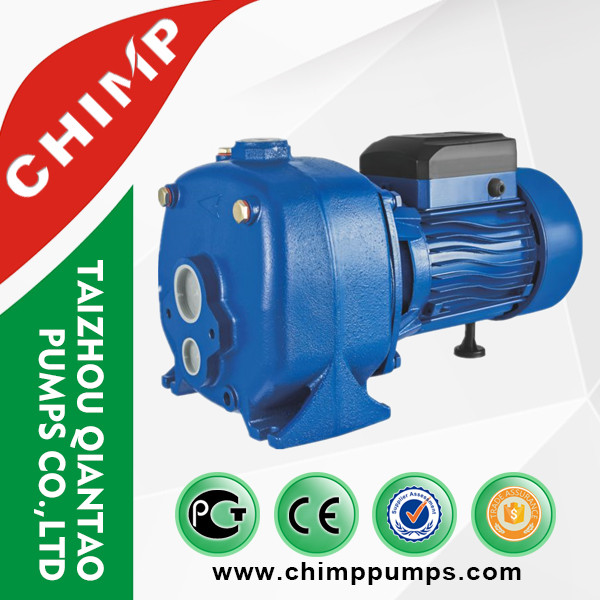 Our Services
For more information, just feel free to contact with Ms. Jelly Zhao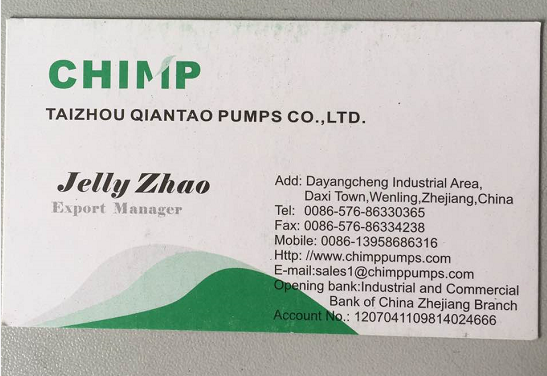 <>


Product Categories : Electrical Motors > Three Phase Electrical Motor