Y2 series small ac cast iron three phase asynchronous induction electric motor
Product Description
Y2 series small ac cast iron three phase asynchronous induction electric motor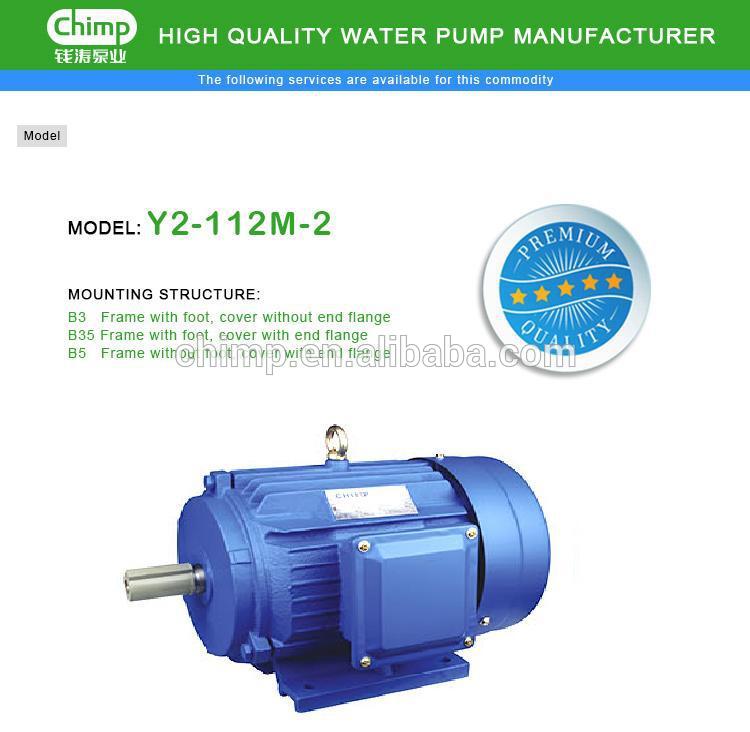 Product Description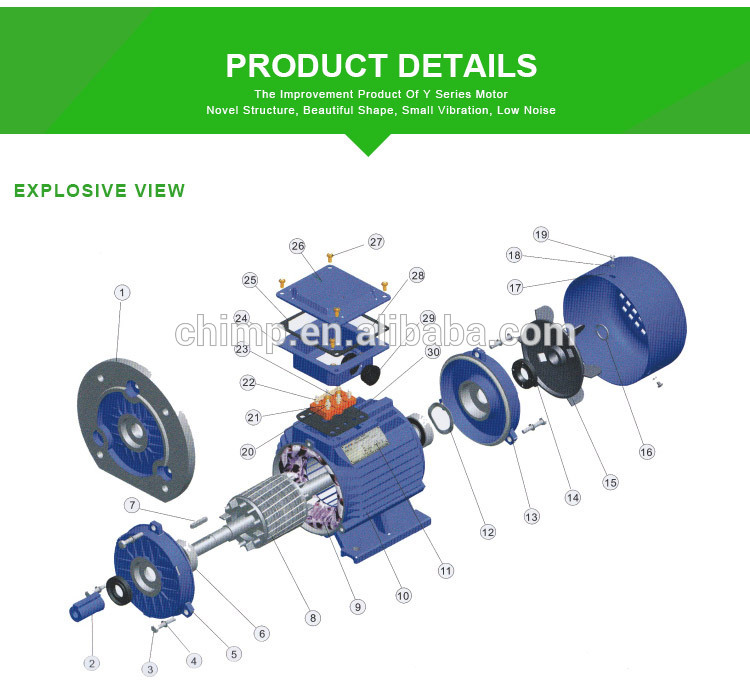 | | | |
| --- | --- | --- |
| 1.B5 Flange | 11.Name plate | 21.Brass net |
| 2.Shaft cover | 12.Wave washer | 22.Brass lug |
| 3.Bolt | 13.Rear endshield | 23.Teminal board |
| 4.Spring washer | 14.Seal ring | 24.Terminal box base |
| 5.Front endshield | 15.Fan | 25.Gasket |
| 6.Bearing | 16.Fan clamp | 26.Terminal box lid |
| 7.Key | 17.Fan cowl | 27.Screw |
| 8.Rotor | 18.Washer | 28.Earth mark |
| 9.Stator | 19.Fan cowl screw | 29.Jacket |
| 10.Frame | 20.Brass washer | 30.Leather washer |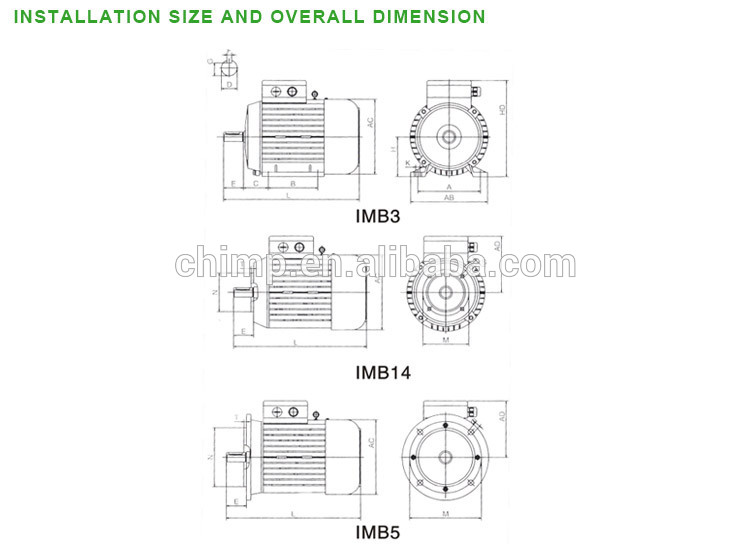 INSTALLATION SIZE AND OVERALL DILMENSION
     
FRAME
INSTALLATION SIZE
OVERALL DIMENSIONS
IMB5
IMB14
IMB3
 
A
B
C
D
E
F
G
H
K
M
N
P
S
T
M
N
P
S
T
AB
AC
AD
HD
L
56
90
71
36
9
20
3
7.2
56
5.8
65
50
80
M5
2.5
98
80
120
7
3
110
120
110
155
195
63
100
80
40
11
23
4
8.5
63
7
75
60
90
M5
2.5
115
95
140
10
3
130
130
115
165
230
71
112
90
45
14
30
5
11
71
7
85
70
105
M6
2.5
120
110
160
10
3.5
145
145
125
185
225
80
125
100
50
19
40
6
15.5
80
10
100
80
120
M6
3
165
130
200
12
3.5
160
165
135
215
295
90S
140
100
56
24
50
8
20
90
10
115
95
140
M8
3
165
130
200
12
3.5
180
185
145
235
335
90L
140
125
56
24
50
8
20
90
10
115
95
140
M8
3
165
130
200
12
3.5
180
185
145
235
360
100L
160
140
63
28
60
8
24
100
12
130
110
160
M8
3.5
215
180
250
15
4
205
215
170
255
380
112M
190
140
70
28
60
8
24
112
12
130
110
160
M8
3.5
215
180
250
15
4
145
240
180
285
400
132S
216
140
89
38
80
10
33
132

12

165
130
200
M10
4
265
230
300
15
4
280
275
195
325
475
132M
216
178
89
38
80
10
33
132
12
165
130
200
M10
4
265
230
300
15
4
280
275
195
325
515
160M
254
210
108
42
110
12
37
160
15
/
/
/
/
/
300
250
350
19
5
325
325
255
385
600
160L
254
254
108
42
110
12
37
160
15
/
/
/
/
/
300
250
350
19
5
325
325
255
385
645
180M
279
279
121
48
110
14
42.5
180
15
/
/
/
/
/
300
250
350
19
5
355
380
280
455
700
180L
279
279
121
48
110
14
42.5
180
15
/
/
/
/
/
300
250
350
19
5
355
380
280
455
740
Customer's satisfaction is CHIMP staff's persistent pursuit.
Quality and credit standing is the forever topic of CHIMP.
Product parameter
PRODUCT PARAMETER 
                        1.BRAND: CHIMP                                                                               6.RATED VOLTAGE: 380V
                        2.MODEL: Y2-112M-2                                                                        7.RATED FREQUENCY: 50Hz (or 60Hz)
                        3.PRODUCT CATAGORY: electric motor                                       8.PROTECTION CLASS: IP54 (or IP55)
                        4.BASE CENTER HEIGHT: 63-315mm                                          9.INSULATION CLASS: B or F
                        5.POWER RANGE: 0.12-110kw                                                     10.WORK SYSTEM: S1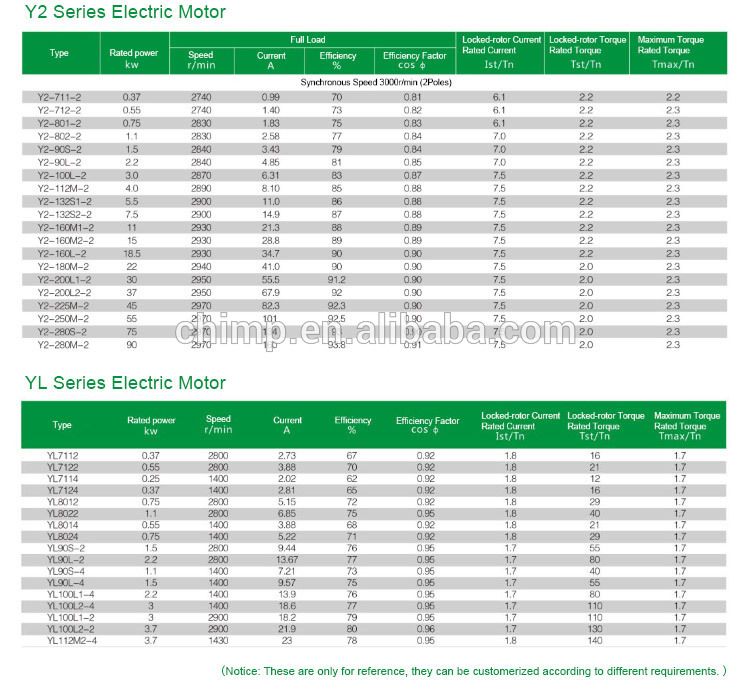 Company Information
 WORKSHOP AND PRODUCTS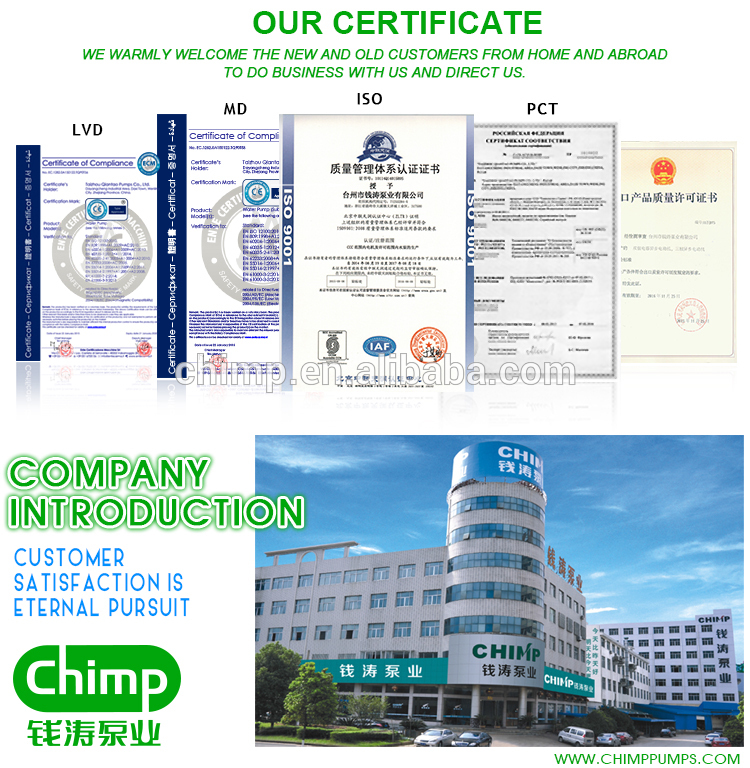 Taizhou Qiantao Pumps Co., Ltd. is a modern enterprise with a combination of development, production, service. It is specialized in producing electric pump and motor with more than 50 series and 1000 specifications.
Our company centers on people, equipped with a large technology team and management talent, forming significant human resource and powerful technology advantagement.

We own advanced electric pumps and assembly line for motors as well as online automatic testing systems. All these equipments supply favorable managing condition and reliable detecting methods. Our company has passed the ISO9001:2000 international quality system certification and "3C" electrician product certification. The products have won the producing licence granted by the national technical supervision bureau and "Agricultural Machinery popularization licence" granted by the national agriculture ministry.

Customers' satisfaction is the everlasting pursuit of "Qiantao" staff. Quality and credit standing is the forever main topic of Qiantao. We sincerely wish to cooperate and develop together with all partners. At the same time, we warmly welcome the new and old customers from home and abroad to do business with us and direct us.

At all times, Qiantao Pump Company is appling ourselves to normalized technology development and quality management construction. We constantly solidify, perfect and improve the company's total quality management standard. We also popularize ISO9000 quality management system. These not only uprise the management standard, promise the product quality, strengthen the running belief of "Customers' satisfaction is Qiantao people's persistent pursuit. Quality and credit standing is the forever main topic of Qiantao.", but also win the customers' trust.
Packaging & Shipping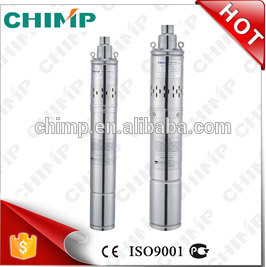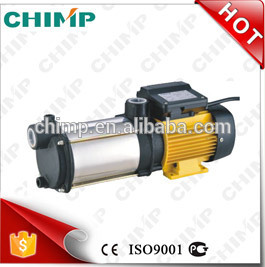 QGD Screw Pump                                              3M
                                                    Click More                                                                                            Click More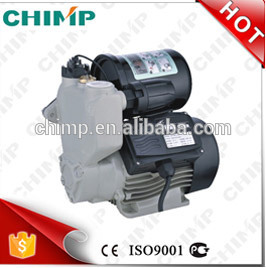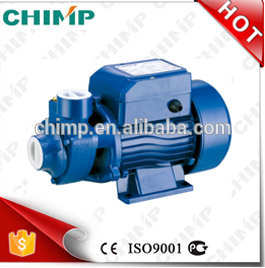 Intelligent Automatic Pump                                            3M
                                                   Click More                                                                                                  Click More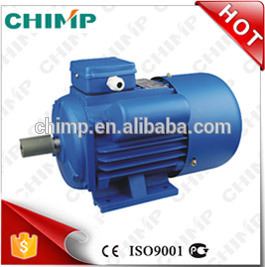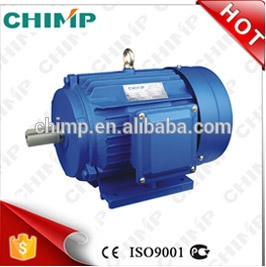 YL90L-4                                                      Y2-112M-2
                                                  Click  More                                                                                                Click More
Our Services
 For more information, just feel free to contact with Ms. Miya Zhao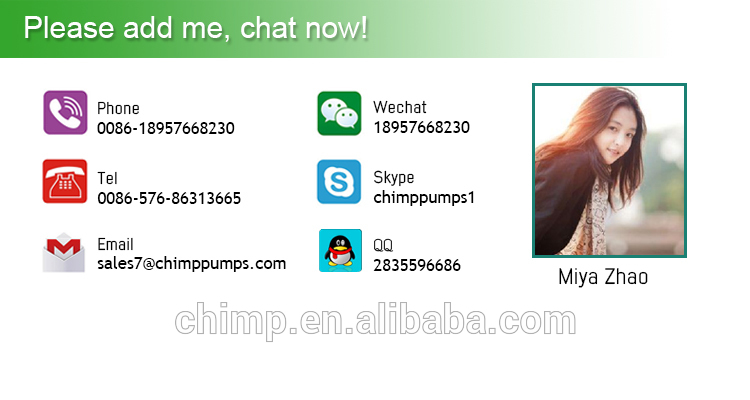 <>


Product Categories : Electrical Motors > Single Phase Electrical Motors