Multi Grade Screw Pump
| | |
| --- | --- |
| Payment Type: | L/C,T/T |
| Min. Order: | 1 Set/Sets |
| Delivery Time: | 1 Days |

| | |
| --- | --- |
| Transportation: | Ocean,Land |
| Certificate: | API2001 |
Product Description
Multi grade Screw Pump is the crew pump with several lobes. The oil suction efficiency is improved by a large margin. Except multi lobe screw pumps, our company also provides single screw pumps and double progressive cavity pumps. Comparing these three different types of screw pumps, screw pump with several lobes has the largest torque.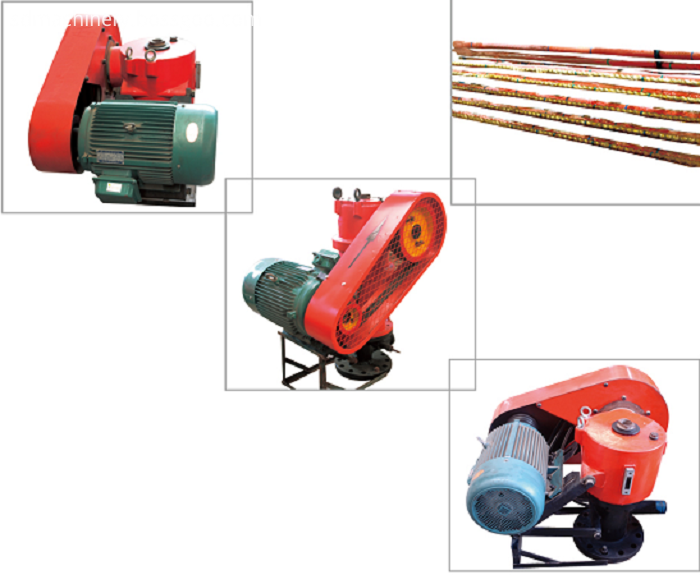 GLB single screw oil pump is a new type of mechanical extracting equipment, not only suitable for the low viscosity crude oil production, but the high viscosity oil, high pour point oil, high wax content oil, high sand content and gas content oil exploitation. It is effectively complementary to conventional pump with the character of less investment, efficient oil production, low energy consumption, convenient for installation, operation and maintenance, It will become widely used mechanical extracting equipment. Through the deep research in the key component rubber stator`s performance of the anti-wear and swelling resistant, the problem of the rubber wear-resistant has been basically solved.
The driving part on ground runs smoothly with little noise.

Feature A: The adoption of a special structured mechanical sealing device ensure the safe and reliable sealing performance. On the polish rod, there is no bending stress points, need no maintenance and adjustment, which ensure safe and stable production of crude oil without leak and protects the well site environment.

Features B: The product adopts a special anti-inversion structure, which realizes the reliable braking( brake torque reaches more than 4000N.m) and the release of free to ensure the safe and convenient operation in oil wells.

Features C: Diesel power driving is designed for the wells without power source.

Features D: The electrical device is controlled by the variable frequency the realize the stepless speed change, and the excellent overload protection with obvious energy saving effect. The driving motor`s power is from 11kw to 22kw.
This the table for Multi Grade Screw Oil Pump's specifications and models.
Model

Delivery

Rod revolving speed

Theoretical displacement

Themaximum viscosity(50℃)

Rotor connection thread

Stator connection thread

Stator outer diameter

Sleeve required diameter

M

r/min

M3/D

Mpa·s

Rod thread

MM

MM

GLB40-21

900

96

5.5

8000

7/811

27/811 TBG

73

≧114

173

10

GLB40-42

1800

96

5.5

8000

7/811

27/811 TBG

90

173

10

GLB75-21

900

96

10

6000

111

31/211 TBG

90

173

18

GLB75-27

1200

96

10

6000

111

31/211 TBG

90

173

18

GLB75-40

1700

96

10

7000

7/811

31/211 TBG

90

173

18

GLB75-48

1900

96

10

6000

111

31/211 TBG

90

173

18

GLB7120-27

1200

96

16

6000

7/811

31/211 TBG

90

173

29

GLB7120-36

1600

96

16

2600

111

31/211 TBG

102

173

29

GLB190-27

1200

96

26

6000

111

411 TBG

102

≧140

173

47

GLB190-33

1500

96

26

6000

111

411 TBG

102

173

47

GLB190-40

1700

96

26

6000

111

411 TBG

102

173

47

GLB300-21

900

96

41

5000

111

411 TBG

102

173

74

GLB300-27

1200

96

41

5000

111

411 TBG

102

173

74

GLB400-20

860

96

55

5000

111

411 TBG

102

173

99

GLB400-30

1300

96

55

5000

111

411 TBG

102

173

99

GLB500-14

600

96

69

5000

111

411 TBG

102

173

124

GLB500-21

900

96

69

5000

111

411 TBG

102

173

127

GLB600-14

600

96

82

5000

111